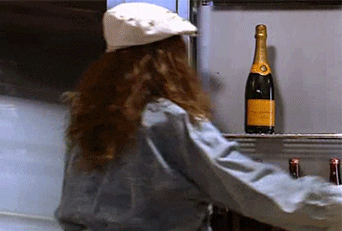 In the early series of Ab Fab the ladies started out imbibing red wine.  But over time they converted to champagne... and lots of it!
In later years after Patsy burned down Edina's kitchen by falling asleep with a cigarette in her mouth, Eddy had to remodel the kitchen.  The pride of the new kitchen is the self filling champagne fridge stretching one entire side of the living room.  A mechanical arm refills the fridge the moment a bottle is removed so that the fridge always appears fully stocked.  One side of the firdge is stoked with  NV Veuve Clicquot Ponsardin Brut and the other side has NV Bollinger Special Cuvee Brut.
Patsy is fond of calling Bollinger "Bolly" and you'll often hear her call, "Bolly, Eddy?"