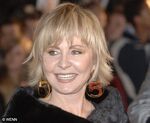 Lulu Kennedy-Cairns is best known by her stage name Lulu. She is a Scottish singer (best known for the song "To Sir With Love"). She is also an actress, and television personality. Lulu is a longtime client of Edina's PR agency, though their relationship is often problematic, with Lulu dissatisfied with Edina's efforts on her behalf. She appears in the Absolutely Fabulous episodes Job and Morocco and New Best Friend.
Ad blocker interference detected!
Wikia is a free-to-use site that makes money from advertising. We have a modified experience for viewers using ad blockers

Wikia is not accessible if you've made further modifications. Remove the custom ad blocker rule(s) and the page will load as expected.