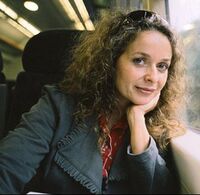 Julia Sawalha (born 9 September 1968) is an English actress well known for her role as Saffron Monsoon in Absolutely Fabulous.
She is also known for playing Lynda Day, editor of The Junior Gazette in Press Gang and Lydia Bennet in the 1995 television miniseries of Jane Austen's Pride and Prejudice. She currently plays Dorcas Lane in the BBC's costume drama Lark Rise to Candleford.
External Links
Edit
Ad blocker interference detected!
Wikia is a free-to-use site that makes money from advertising. We have a modified experience for viewers using ad blockers

Wikia is not accessible if you've made further modifications. Remove the custom ad blocker rule(s) and the page will load as expected.